Quick Links
College of Engineering, Perumon
The College of Engineering Perumon was established on 25 acres of the land donated by the Govt. of Kerala on the banks of the Astamudi Lake, which is included in the tourism map of Kerala and an ideal place for the establishment of an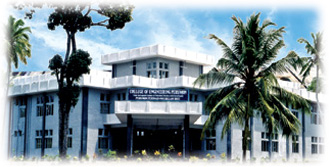 Engineering College intended to acquire a deemed University status in due course. It is at Kuzhiyathu Junction along the Kollam - Perumon Road (via - Anchalummoodu) 13 kms away from Kollam Railway Station and 12 kms from Kollam bus Stand via NH 47. The nearest Railway Station is Perinad at 1 km distance. The College is about 90 kms from Thiruvananthapuram Airport (nearest airport).
The foundation stone of the college was laid in the year 2000 by Sri.E.K.Nayanar, former Chief Minister of Kerala. The former Minister for Co-operation, Sri.M.V.Raghavan, inaugurated the college buildings in Feb, 2004.
The College is affiliated to Cochin University of Science and Technology (CUSAT). Admission to this college is purely based on the Common Entrance Examination (CEE) conducted by the Govt. of Kerala. The students of this college are getting top ranks right from the first batch itself among the colleges under CUSAT. This college is the choice of top rank holders in the CEE. This college has made a distinction in discipline, quality teaching and in excellence of students.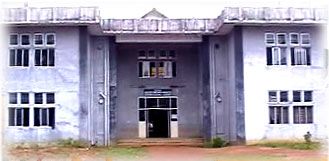 The Courses offered are B.Tech in Computer Science & Engineering, Electronics & Communication Engineering, Electrical & Electronics Engineering, Information Technology, Mechanical Engineering and M.Tech in Computer & Information Science. The duration of B.Tech course is four academic years as prescribed in the curriculum. The first two semesters will be combined together as first year, and the remaining three years consists of six semesters. Examinations will be conducted at the end of the year/semester.
The annual intake for each course is
Computer Science & Engineering - 60
Electronics & Communication Engineering - 90
Electrical & Electronics Engineering - 60
Information Technology - 30
Mechanical Engineering - 60
M.Tech in Computer & Information Science - 18
The Institution has a full fledged Training & Placement Cell (TPC) which dedicates itself to help students to develop their personality and establish their careers. The activites of TPC includes preparing the students to face Competitive Examinations and Interviews through intensive training. TPC is constantly in touch with companies and offers all facilities for conducting recruitment.
Each Department has sufficient number of qualified Faculty Members/Supporting Staff. The staff pattern, their qualification, pay scales etc. are in conformity with the AICTE norms. Each department moulds outstanding Engineers with the objective of creating competent professionals. Every year the college promises a handful of assuring engineers to the nation. The college has made it a pleasing practice to hunt most of the university ranks to its achievement file in all disciplines from the beginning itself. Right from the first batch itself the college has been rated high for its academic excellence among the various colleges under the Cochin University of Science & Technology. The leading media of our state has rated the academic excellence of our college as high, based on their surveys.
Principal
Dr. Z.A Zoya
Copyright @ 2012. All rights reserved.
Co-operative Academy of Professional Education